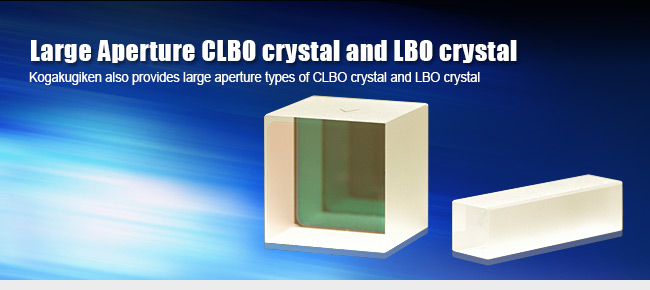 Upsizing of nonlinear crystal is one of the effective approach to the generation of high-quality, high-power ultraviolet light. Since the beginning of development of CLBO crystal, we have processed this crystal . We think the only maker that processing ability can be a practical level. However, we have done further developments of CLBO without satisfied with the status quo.
These developments include shortening of the processing time, and AR coating deposited on CLBO, and others.
On the other hand, we have been challenging the large crystal processing continually. Processing of large aperture nonlinear crystal is also included in this development plan, such as a processing of large size CLBO and LBO.
Already, the fabrication of the CLBO element with a over 15 X 15mm is possible. We target a production of 50 X 50 mm or more size of the CLBO element
In addition, we also target the upsizing of the long-life LBO element that is the highly evaluated by the users.
We will challenge in the processing of large nonlinear crystal for your development.